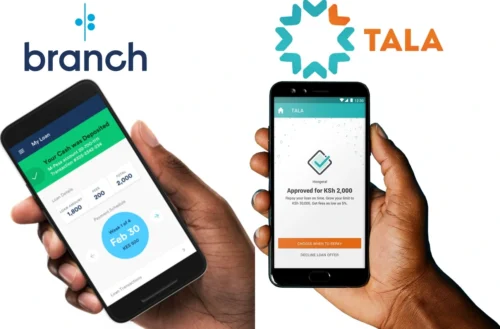 Buying electricity on credit through Okoa Stima is the most expensive mobile lending in Kenya. The mobile-based electricity loan, known as Okoa Stima, attracts a monthly interest of 43.4 percent, making it the most expensive, while Equity Bank's Equitel is the least costly at 2.1 percent per month.
Other costly digital lenders are Pesa na Pesa, which charges interest similar to Okoa Stima, Kopa Chapa at 38.8 percent, Pesa Pata charges 30.4 percent, and Kopa Cash at 15.3 percent. These monthly interest rates are way above the average cost of regulated banking credit that traditional banks put at 1.1 percent.
Trends in Lending Have Changed
Kenyans seem to have moved from ordinary borrowing of funds from the banks and opted for digital mobile lenders. Digital lenders have come in handy, helping Kenyans to get access to quick loans, through the use of cell phones and mobile apps. These are convenient compared to loans from the banks which take weeks to get processed let alone the signing of several documents, and crowded banking halls to get served. Dozens of apps are available at the Google play store, and a number of Kenyans have downloaded the apps to test the waters.
The appetite for digital loans has led tens of unregulated digital lenders to invade Kenya's credit market in response to a rise in demand for quick loans and the freeze in commercial bank lending to individuals and small businesses that followed the 2016 capping of interest rates. From having had little or no access to credit, many Kenyans now find they can get loans in minutes through their cell phones.
However, it's not all roses as this mobile lending frenzy is quickly turning into a nightmare for many.  Many of the digital lenders extending credit to the banked and unbanked alike are burdening borrowers with high-interest rates as the banking regulator races to keep up. The risks associated with unsecured digital lending push lenders to reduce their risk exposure by charging fees and interest rates that are relatively high compared to conventional loan products.
Digital Lenders and Regulation
Currently, digital lenders, operate outside the supervision of the central bank, which enables them, both banks and others, to escape the government cap on interest of four points above the state benchmark interest rate, which now stands at 9 percent and caps credit cost at Sh13 percent. If you have not taken your shot, you should be cautious and consider several things before getting a mobile loan. You should know that these mobile lenders are not regulated by CBK thus they can manipulate users by charging higher or more interest on the loans as compared to banks.
Market leader M-Shwari, Kenya's first savings and loans product introduced by Safaricom and Commercial Bank of Africa in 2012, charges a facilitation fee of 7.5 percent on credit regardless of its duration. Calculated annually this translates to 91 percent. But the Okoa Stima product when calculated annually pushes the cost of the electricity loan to a crazy 521 percent. Under the Okoa Stima facility, electricity consumers get a credit of between Sh100 and Sh2,000 to settle power bills. Defaulters are charged a penalty of 10 percent on the advance. The loan should be repaid within a week.
What makes the product costs is a shorter loan repayment period with the most preferred tenure being a few days. The shortest loan repayment period is one week.
Tala and Branch, other top players in the mobile digital lending market, offer interest rates of 12.7 percent and 7.6 percent respectively for loans borrowed over one month. The Tala loan equates to 153 percent over a year.
Here are the most expensive mobile lenders in Kenya, with higher rates compared to that set by CBK;
Top 5 most expensive mobile loans in Kenya:
Okoa Stima – Safaricom's Okoa Stima is the most expensive mobile loan which allows you to pay for electricity tokens charging an interest rate of 43.4 percent.
Pesa na pesa – Pesa na Pesa is an innovative mobile phone-based borrowing and lending product developed by AVL Capital Ltd charging an interest rate of 43.4 percent.
Kopa Chapaa – Kopa Chapaa is a 10-day loan available to AirTel Money customers for low-value cash emergencies in partnership with Faulu Kenya charging a rate of 38.8 percent.
Pesa Pata – The Peer to peer mobile lending platform charges an interest of 30.4 percent on loanees.
Kopa Cash – The Airtel product charges a rate of 15.3 percent
These interests are charged with an additional penalty to those who default on the loans. Okoa Stima, for example, charges a 10 percent penalty to defaulters.
More comparison to digital lenders in Kenya
It's amazing just how many of us simply borrow through our mobile phones without keeping an eye on the interest rate charged on the loan.  Well, you will be surprised, by just how much you pay. Say for example you borrow 2000 shillings from a mobile lender for 21 days.  How much interest would you be charged? You will be amazed at just how different the interest rates are.  Look below:
Lender Interest Total due
Zenka 0 2000
Tala 220 2220
Okolea 260 ` 2260
Okash 420 2420
Get Bucks 600 2600
Berry 700 2700
Mobile loans have been the reason why most Kenyans are listed by Credit Reference Bureaus (CRB). Think twice before you take that mobile loan and check just how much interest your lender is charging you.